Rabchief-DSR
---
RABCHIEF-DSR CAPSULE is a combination of Domperidone and Rabeprazole. The active ingredients, Domperidone and Rabeprazole fall under the class of dopamine antagonist and PPI (Proton pump inhibitor), respectively.
This medication helps to speed up the passing of food from stomach to intestine. And it also helps reducing the feeling of nausea, sickness and vomiting.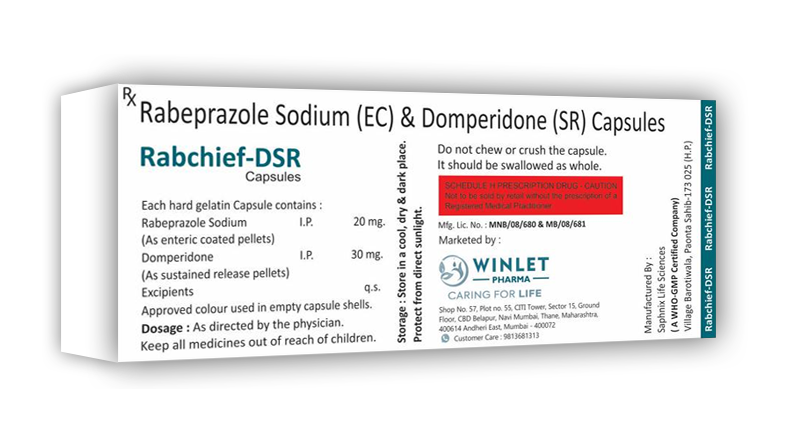 Rabchief DSR is used to treat:
Gastroesophageal reflux disease (Acid reflux)
Peptic ulcer disease
Heartburn
Stomach Pain or Irritation
It also helps in neutralizing the acid & easy passage of gas to reduce the stomach discomfort
Dosage:
Usually taken empty stomach as prescribed by doctor.
Dose also depends upon your body condition
Don't change the dosage without doctor's recommendation.
You must get assured that you are not suffering from any kidney or Liver Disease. One must also tell the doctor about pregnancy or breast feeding. Also share with your doctor about the problems like - cardiac disease, incorrect level of magnesium, potassium or Calcium in the blood.